PERFORMANCE HISTORY
Premiere: November 6, 2022, Iklectik London: Live Visuals Book Launch Afterparty
Live Shoot Performance: August 24, 2022: Northern Dance Newcastle

---
VIMEO
Video Showcase: https://vimeo.com/showcase/7651150
---
SOUNDCLOUD
Audio recording: https://soundcloud.com/steve-gibson-101/virtual-av-northern-dance

---
DESCRIPTION
Continuing on the motion-based work of Virtual DJ, Virtual VJ, and Opto-Phono-Kinesia (OPK) I have developed a new project VRitual AV. In response to the limitations introduced by the COVID-19 pandemic, I developed a more portable and simpler interface than the room-scale Gesture and Media System GAMS motion-tracking system used in the above projects.
VRitual AV uses the Leap Motion 3D controller, as well as a multi-touch iPad interface (in TouchOSC) to enable small-area gestural control of sound and light. It deliberately uses as few technological resources as possible in a limited spatial area, while retaining the complexity of interaction required for an expert (as opposed to a general) interactive performance. The interface is a model for portability, and in addition serves as a solution for older body-based performers (including myself), who may physically struggle with larger-area interaction.
VRitual AV enables the performer to move his or her hands and draw to perform and mix music, lights and visuals in real-time with relative precision. The ultimate in tactile audio-visual interfaces!
---
STILLS FROM PREMIERE AT IKLECTIC LONDON
All Images shot by Jonathan Crabb
Performer: Steve Gibson
---
STILLS FROM SHOOT AT NORTHERN DANCE
All Images shot by Liam Hardy and edited by Steve Gibson
Performer: Steve Gibson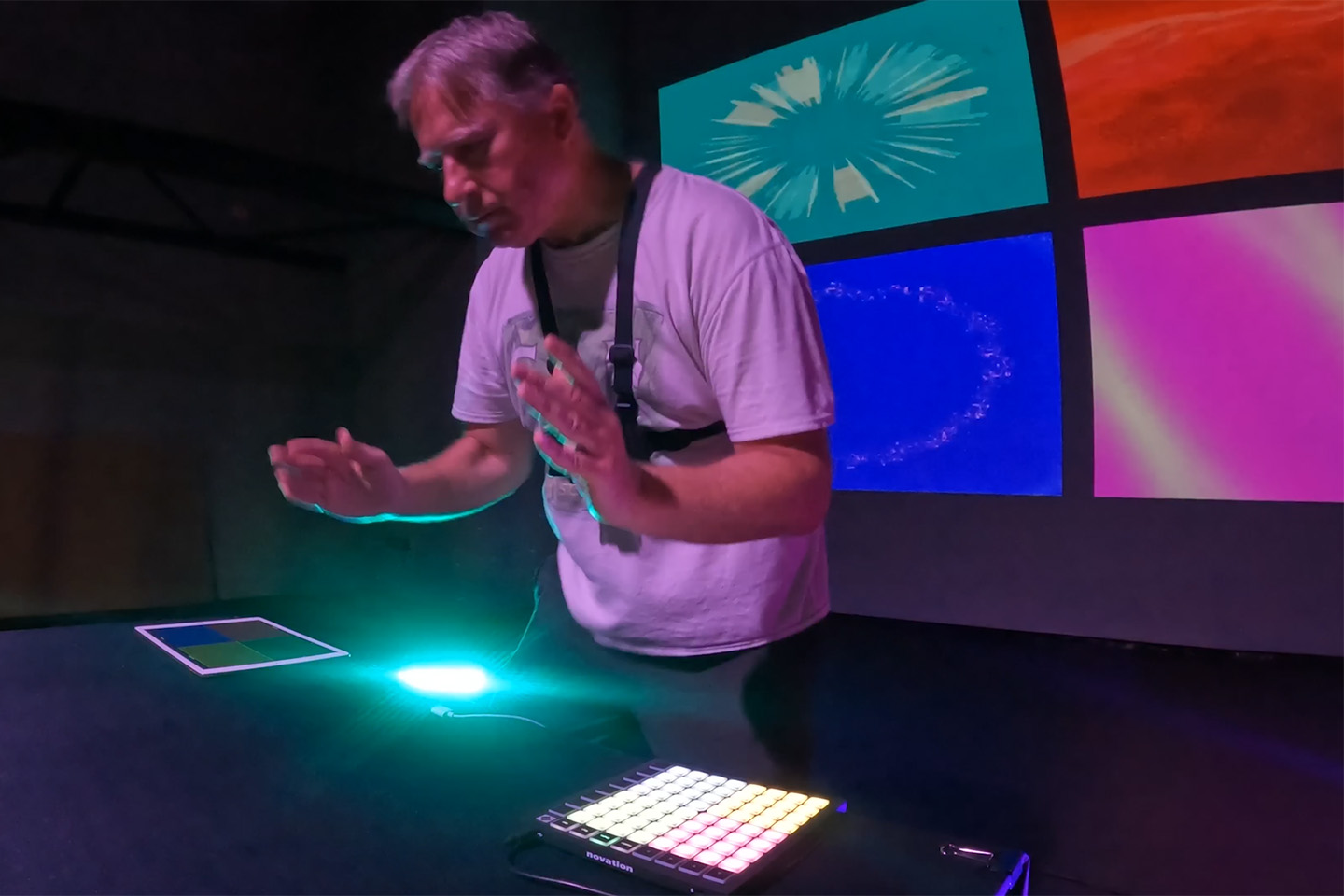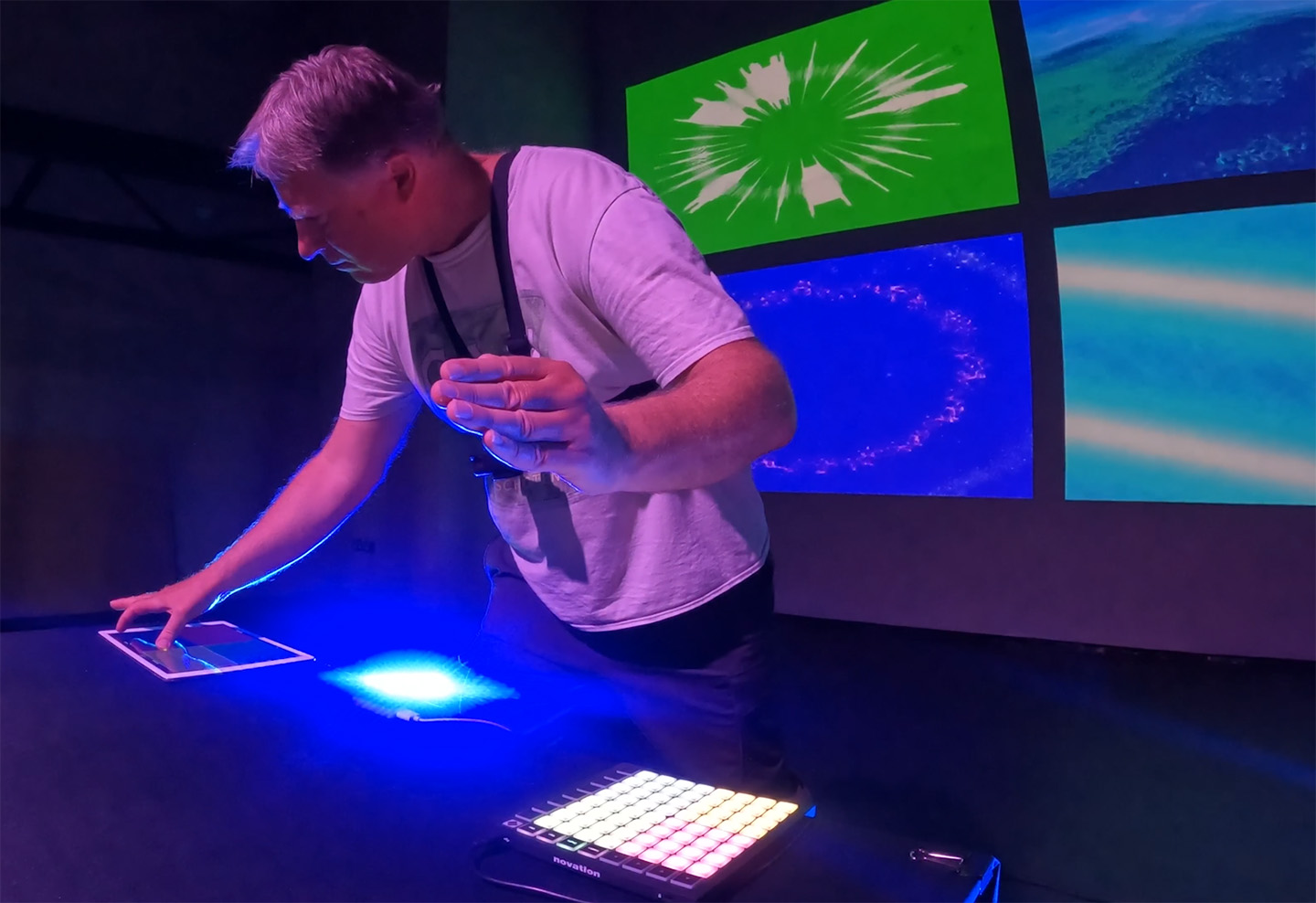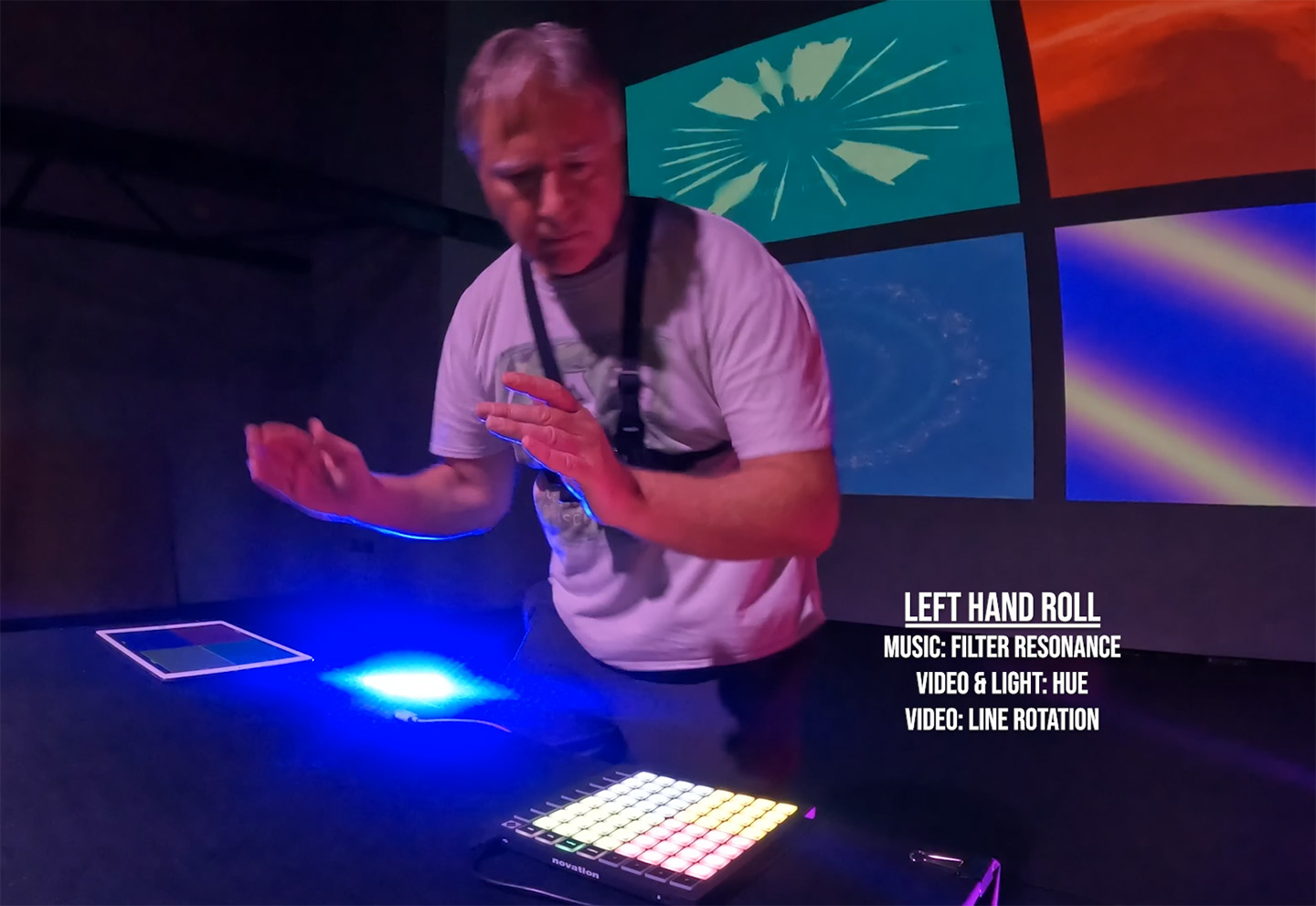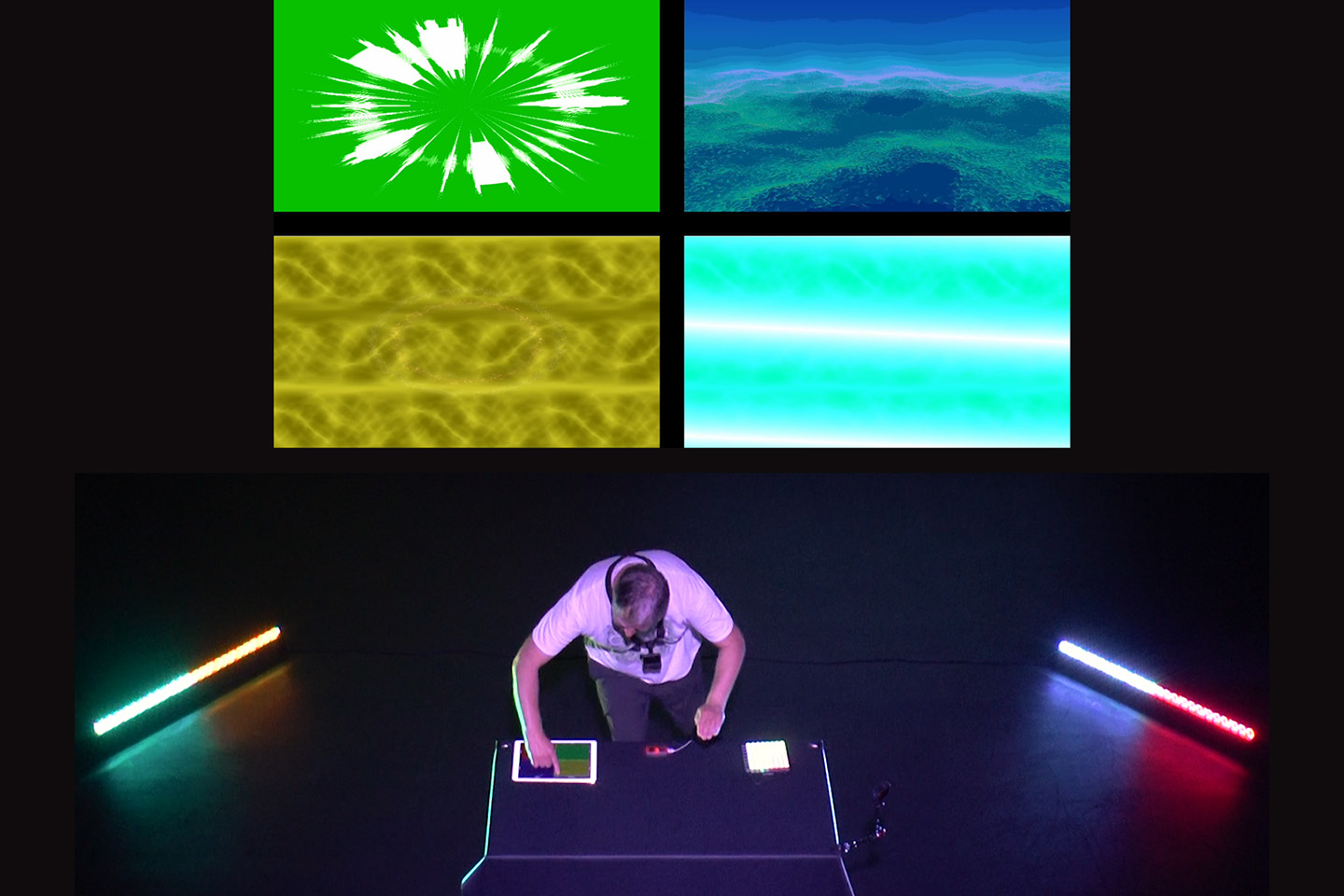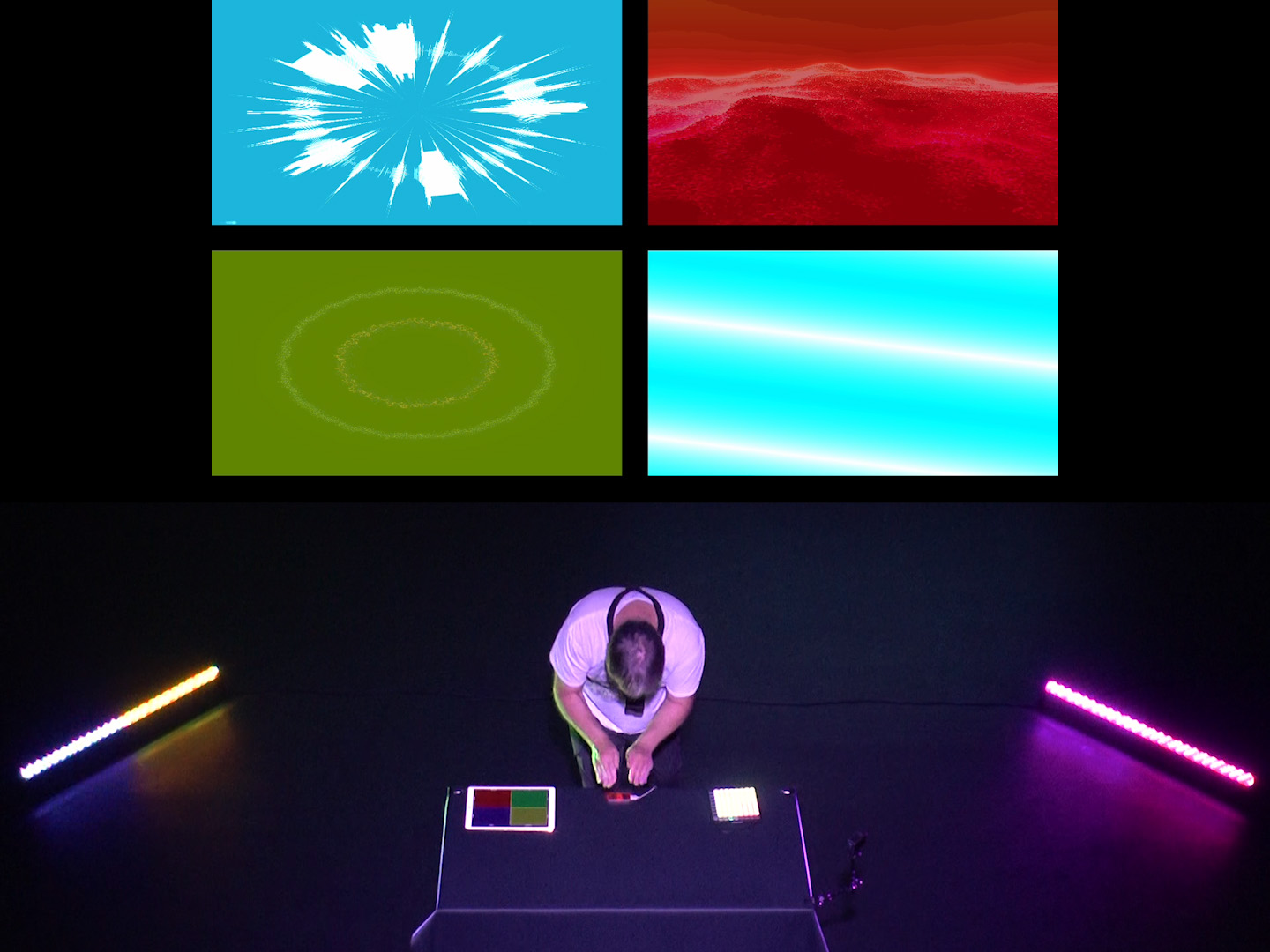 ---
STILLS FROM HOME STUDIO SHOWING SOME KEY TECHNOLOGIES AND SOFTWARE
All Images shot and edited by Steve Gibson
Performer: Steve Gibson
---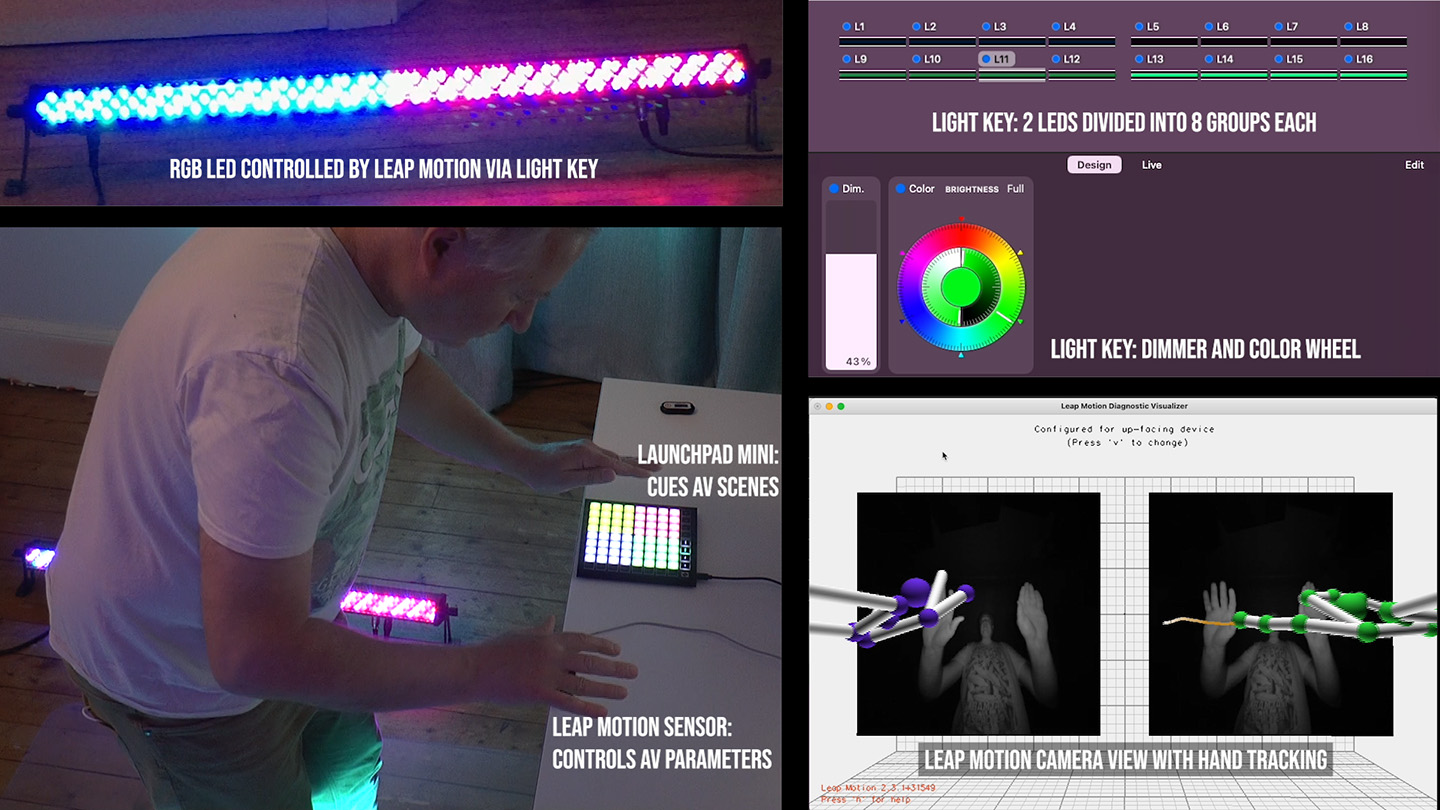 ---
SYNAESTHESIA MAP EXAMPLES
These maps show the audio-video-light mappings used in of the Performance Excerpts in the Vimeo links at the top of this page.
---