Steve Gibson is an interactive media artist, electronic musician, interface designer, and media art curator with a practice that spans many disciplines. He is currently Associate Professor in Innovative Digital Media at Northumbria University, Newcastle. Steve has also had immediately publicly facing roles as Curator and Director for the Media Art event Interactive Futures from 2002-07, and as Co-owner of Limbic Media Corporation from 2007-14. He is primarily interested in transdisciplinary collaborations between art, design and computing, and has concentrated his research work on tactile and physical interfaces and applications that enable a healthier relationship with technology. He works as lead-beta tester of the Gesture and Media System motion-tracking system, and has produced a number of significant body-based pieces using this technology.
Steve Gibson has an active practice that fuses immersive art, audio-visual performance and DIY design.  His sound work is influenced by a diverse body of art and popular movements and fuses experimental electronica, techno, krautrock and the avant-garde. He is classically trained and has studied with well-known contemporary composers such as Louis Andriessen and Frederik Rzewski. His experimental electronic collaborative CDs include SPASM: The Sound of Virtual Reality and Hacking the Future.  More recently he has been involved in large-scale multi-screen audio-visual events, including several with Swiss VJ collective Scheinwerfer in Zurich, Vancouver, San Francisco, Chicago, Shanghai and Singapore. He also performs as a body-based performer using motion tracking to control sound, lights, and video by movement in 3D space and has exhibited these projects in China, Zurich, Stockholm, Vancouver and many other locations.

Over the course of his 25-year career in media arts Steve has presented at many world-leading venues including Ars Electronica, the Whitney Museum of American Art, Banff Centre for the Arts, Digital Art Weeks, the European Media Arts Festival, ISEA, the National Museum of Scotland and Cabaret Voltaire, Zurich. His published work has appeared in Leonardo Electronic Almanac, Springer, St. Martin's Press, MIT Press, and New World Perspectives. His co-authored book Live Visuals: History, Theory, Practice will be published by Routledge in 2022. He is currently working with Northern Dance Newcastle on a large-scale movement-based audio-visual project, Ephemera.

Links
SOUNDCLOUD
VIMEO
Download Steve Gibson's CV
Download a Hi-res PDF portfolio
Download a Screen-res PDF portfolio

Note
The cards below show my work in various areas. Click on the images to view the Collage images or the websites.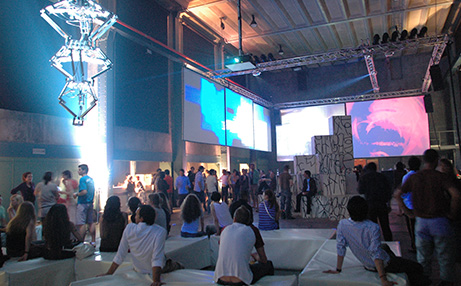 EXPLODING, PLASTIC & INEVITABLE (2006-12)
by Steve Gibson, Scheinwerfer, Love&Olson, Jackson 2Bears (with guests)
"EXPLODING, PLASTIC & INEVITABLE... create[s] an immersive audio-visual experience which mimics the psychedelic atmosphere of the original EPI event." Luc Meier, Swissnex San Francisco.
GRAND THEFT BICYCLE (2007-17)
by Steve Gibson, Justin Love & Jim Olson
GRAND THEFT BICYCLE is a game-art installation that uses the kinetic interface of a bike, modified with sensors, to allow users to ride through a 3D "mod" of Grand Theft Auto: San Andreas.
[Steve Gibson] is revolutionizing the accepted idea of performance, art and musicianship – a sort of improvisational conductor of our times.
Darren Stewart, Victoria Times-Colonist.
Opto-Phono-Kinesia(OPK)... by Steve Gibson from Northumbria University was very impressive.
Simran Chopra, NorSC Lab
"OPK demonstrates rich synthesis between the live embodied modalities of the performer and the mediated technological states/scenes. The interplay, afforded through the use of GAMS, between the embodied and the mediated, facilitates a unique immersive performance experience… serving as a novel methodology for performers….
Solomon Lennox, Northumbria University
GTB [Grand Theft Bicycle] inverts established paradigms of wreaking havoc from the vantage point of a powerful motorized vehicle and enables the humble cyclist to appear impervious to both vehicular and firefight assault. Further, this project spans the world of media arts and digital technology –sometimes considered the realm of gizmo art — with installation art and theoretical constructs such as relational aesthetics.
Dick Averns, Akimblog
Steve Gibson is at the forefront of experimentation in deconstructing, reconfiguring and ultimately composing the future.
Dee, Futures lab on-line
Steve Gibson's ongoing extensive experimentation, testing, and resultant suggestions continue to shape our innovations.
Will Bauer, P.Eng. President, Moment Research Corporation
[Virtual DJ] could forever change the dance floor.
Vivian Moreau, The National Post.